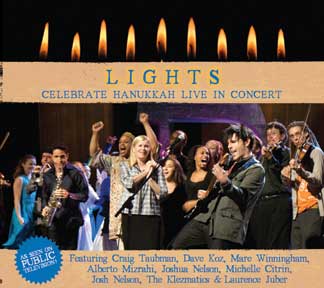 Craig Taubman has a reputation for excellence in all his musical endeavors, and his latest project,
Lights: Celebrate Hanukkah Live In Concert
, continues his list of accomplishments. The CD was recorded as part of an event that was taped for PBS television. The artists performing here represent a wide spectrum of the talented musicians on the Jewish Music scene today. The music is thoroughly enjoyable, and presents a fresh approach to the rather limited Hanukkah repertoire. The musical celebration is lightly sprinkled with liturgical music and Rabbinic commentary, to remind us of the significance of the holiday.
Taubman puts his soulful joy into
Mi Yimalel
,
Shehechianu
,
Maoz Tzur
, and
Holy Ground
. These are the most known Hanukkah songs, and the rich arrangements breathe new life into them.
Alberto Mizrahi performs the Cantorial role on
The Blessings
, then he morphs into a completely different persona on a Tango version of
Ocho Kandelikas
and the Sephardic
Od'cha
, sung to a middle-Eastern melody.
Michelle Citrin lends her beautiful voice to Peter Yarrow's
Don't Let The Light Go Out
, a very nice contemporary piece.
The Klezmatics perform two songs from their Woody Guthrie collection, the lively
Hanukkah Gelt
and the Folk Waltz,
Hanukkah's Flame
, with a Trumpet solo from Frank London, and a Gospel choir.
Mare Winningham sings her very clever original song
A Convert Jig
and the traditional
Hanerot Halalu
.
Jazz Saxophonist Dave Koz performs an inspired
Over The Rainbow
, which as he explained it, brings a universal message of hope and fits in perfectly with the Hanukkah celebration. I couldn't agree more.
Rocker Josh Nelson joins with a children's choir on the rock anthem
L'dor Vador
. He brings his wonderful voice and deep passion to this original song. This is a favorite of mine on the album.
Joshua Nelson brings a new look at
Hiney Ma Tov
and
I Have A Little Dreidl
. Part Little Richard and part Louis Armstrong, with some Gospel added to the mix, these are highlights on the album, not to be missed.
A bit of spiritual insight is provided by Rabbi David Wolpe, on two short tracks,
Lights
, and
The Lesson
. Rabbi Wolpe imparts more insight in two minutes than most other Rabbis can in 30 minutes. Well done!
The finale,
Hanukah 'o Hanukah
is a great showcase for the entire cast, with each taking a chorus in their own style, before the big finish with all singing together. This is a nice touch and a classy way to top off a great program.
The sound on this album is excellent. The vocals are clear and crisp, and the musicians come through distinctly, not shoved to the back of the mix. And the audience can be clearly heard singing along on some of the songs. Kudos to Recording/Mixing engineer Tom Weir.
The CD package is a tri-fold case with song information, credits, and some very nice photos from the concert.
If you're looking for some contemporary Hanukkah music with a nod to tradition, then this is the album for you. I highly recommend this album and will keep it around for a long time. You can get the CD with a pledge of support to PBS as well as from the Craig 'N Co. website.
Keith Wolzinger
Klezmer Podcast
Lights: Celebrate Hanukkah Live In Concert
CNC-CD-0320
2008

Track list:
Mi Yimalel Craig Taubman
The Blessings Alberto Mizrahi
Shehechianu Craig Taubman & Caren Glasser
Ocho Kandelikas Alberto Mizrahi
Od'cha Alberto Mizrahi
Lights Rabbi David Wolpe
Light One Candle Michelle Citrin
Hanukah Gelt The Klezmatics
Hanukah's Flame The Klezmatics
A Convert Jig Mare Winningham
Hanerot Halalu Mare Winningham
Over the Rainbow Dave Koz
Maoz Tzur Laurence Juber & Craig Taubman
L'dor Vador Josh Nelson
Hiney Ma Tov Joshua Nelson
I Have A Liuttle Dreidle Joshua Nelson
The Lesson Rabbi David Wolpe
Holy Ground Craig Taubman
Hanukah 'o Hanukah The Cast
Links:
Craig 'N Co.
Facebook