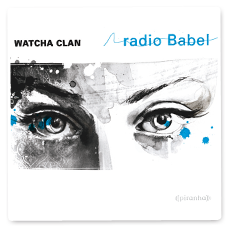 Watcha Clan, the French-Mediterranean group from Marseilles, is at it again with their newest release,
Radio Babel
. If there is a band who could single-handedly bring about World Peace, this is the one. Unlike the biblical Babel, which caused Man's separation by creating all the different languages, this album succeeds in bringing many languages and cultures together to celebrate the One-ness of mankind.
The siren of the group, Sista K, sings in multiple languages with ease, and manages to communicate the feeling of each song perfectly. French, English, Arabic, Spanish, Yiddish, and more are handled with finesse.
Suprem Clem is the gifted beat-master who comes up with the most danceable background rhythms that perfectly complement Sista K's luscious vocals. His balanced use of Electronic beats and Acoustic instruments are the key ingredient in the band's worldwide success. There is never a moment that goes by without something interesting happening in this music.
The central idea of World Peace is given focus with three tracks on the album. The opener,
With or Without The Wall
, as well as the longer version,
With or Without Extended Mix
, rail against the concept of any kind of wall, physical or political. A line spoken on the track conveys the simple idea: "It is time to make peace in every land." Another spoken voice is more direct: "But the idea that you can actually put the wall and so that there will be no contact and that there will be therefore no violence is just not true. The people who want to do violence will do the violence with or without a wall. With a little more difficulty or less difficulty." The extended version is more of a dance mix, with more electronic and vocal beats, some great Bass and Guitar riffs, and some cool panning effects. The third track of the group is
We Are One
, Watcha Clan's plea for a single global community. As Sista K offers: "Land and Men. Who does the land belong to? Men or God? Nobody owns the land. Land is free. So why wars, why borders?" I applaud Watcha Clan for their noble goal. If World Peace cannot be achieved through political and diplomatic efforts, maybe it could be achieved through the sharing of music, one of the most powerful forms of communication there is.
Hasnaduro
is a feature for Nassim, accompanied by Sista K, and has a full complement of North African Arabic rhythms and modality. I love this style. It is full of energy and makes you just want to sing along.
Im Min Alu Intro/Im Min Alu
starts with a reed instrument opening, brass choir and Sista K soaring above them all, then switching into a Klezmer-style beat for a moment before going into a Spanish/Ladino vocal with a terrific blend of electronic beats and fills. Suprem Clem uses a wide range of sound effects in his work, and for this song he has chosen a doorbell and creaky door to fill the gaps.
Il Etait Une Fois Dans L'Est
starts with a Banjo and whistling before Sista K joins in with a beautiful rendition of the Yiddish standard
Shen Vi Di Lavone
. Some Klezmer style Violin fills complete the authentic feel, and the switch to a French vocal seems just right. The slower pace gives a short respite from the fast pace of much of the album.
Driving electronics and drums with Electric Guitar keep the pace fast on
Fever Is Rising
, another plea for peace, and perhaps a musical response to this year's political upheavals among the Arab nations. With the spoken lines, "It is time to make peace with the planet." "And the fever is rising." "Out of sight and out of mind". "Life or death. But there is hopeful news as well. We have the chance to change the world." "We are what is wrong." "Now is the time." "And the fever is rising" becomes a chant repeated through the song, acknowledging the rising tide of grassroots political change.
Tangos Del Cachito
and
El Quinto Regimiento
give Sista K a chance to sing in Spanish, and the electronic beats will surely keep the dancers on the floor, especially the Flamenco-influenced latter track.
Osfour
takes us back to the Arabic world, with the appropriate electronic effects and simpler acoustic Guitar and Bass keeping the song from getting too heavy.
La Camel
keeps us in the same geographical zone, with Arabic and French bouncing back and forth, and a heavier electronic remix feel keeps things moving. A fun surprise at the end is to switch into an old big band version of Bei Mir Bistu Shen, fading out with an old scratchy record sound layered on top.
Viens Viens
opens with and old scratchy record sound then goes into a Piano solo before transitioning to a fast beat and French lyric. Some great Guitar riffs and driving electronics keep this track on the move.
Gypsy Dust
takes us far away to the Balkans where these regional Brass Band rhythms are blended with Suprem Clem's electronic wizardry to create another wonderful Watcha Clan mashup.
Ashanti
blends Sista K's english lyrics with African rhythms, chants, and hand claps and driving electronics to give another dance track that will bring everyone out on the floor.
Radio Babel
succeeds on so many levels. Multiple languages, varied ethnic beats, clever use of Electronics, and masterful musicianship combine to drive Watcha Clan to the top among World Music groups. Listen and enjoy. Feel the world beats. Let yourself be taken on the global journey that is Radio Babel.
Band Members:
Matt Labesse (bass)
Nassim Kouti (vocals, guitar)
Sista K (vocals)
Soupa Ju (production & management)
Suprem Clem (sampling, programming, keyboards)
Track List:
1. With Or Without The Wall 2:11
2. We Are One 3:58
3. Hasnaduro 3:47
4. Im Nin'alu Intro 1:47
5. Im Nin'alu 3:21
6. Il Était Une Fois Dans L'est 4:02
7. Fever Is Rising 4:30
8. Tangos Del Cachito 3:27
9. Osfour 3:58
10. La Camel 2:06
11. Viens, Viens 4:27
12. Gypsy Dust 4:24
13. Ashanti 5:10
14. With Or Without The Wall (Extended Mix) 4:49
15. El Quinto Regimiento 4:09
16. Overseas Rêveries (Digital Bonus Track) 5:15
Piranha Musik- Radio Babel
Watcha Clan Website