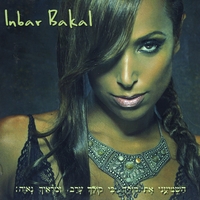 Song Of Songs
Inbar Bakal

Inbar Bakal has made a great first impression with the release of her debut album
Song Of Songs
(Shir Ha Shirim). Though not yet a household name, the Israeli-American singer brings a welcome freshness to the World Music scene. She has a smooth vocal quality that is ethereal and immediately recognizable. The source material for the album comes from ancient Hebrew biblical texts, yet Bakal reaches back through her Yemenite/Iraqi roots to create a fusion of Middle Eastern textures and American contemporary Electronica. The result is a remarkable listening experience that allows for a deep connection to the music.
This rich musical soundscape results from the collaboration between Bakal and visionary Producer/Arranger Carmen Rizzo, who masterfully combines the Middle Eastern instruments Tabla, Oud, Bouzouki, and Saz with Keyboard, Synth, and Percussion elements. The music is consistent throughout the album, giving the feeling that these songs really are a collection and belong together.
The songs do vary in rhythmic texture.
Hallelujah
is an expressive piece in 12/8 time, while my favorite track,
The Bride
, seems to be in ¾ time but with a 10-bar phrase. To me this is the most Middle Eastern sounding piece on the album.
The songs are mostly in Hebrew, with
The Bride
sung in Yemenite and English. The vocals are set back a bit in the mix and blend well with the other instruments, never overpowering. There are occasional moments of extra processing such as delay effects on
Hallelujah
and long tail reverb on Meditation. These are effective, though, and add to the emotional impact of these songs.
I must mention the outstanding musicianship of the players on this album. Dimitry Machlis is amazing on Oud, Bouzouki, and Saz. His musical contributions help to set the tone for the album. He lays down some very nice accompaniments and fills, perfectly complementing the vocals. He gets plenty of space to solo as well, and I enjoy every one of those moments. Satnam Singh Ramgotra is a masterful Tabla artist, adding to the Eastern feel and texture of the album.
The audio quality is excellent. I like the way it is mixed in a contemporary World Pop style, making it easy on the ears and appealing to a wide audience. Kudos to producer Carmen Rizzo. I could not find engineering/mastering credits, but kudos to these artists also.
The promo CD I received is a simple package consisting of a sleeve with song titles, credits, and photos. No insert or liner notes, but you can check Bakal's website for more details.
The album is short, containing six songs, but they are all high quality songs. Bakal did not feel a need to include more songs just to make a full album. I like this approach because it shows that Bakal is more interested in the quality of her music than the quantity. And with the resulting lower purchase price, there is certainly no barrier to obtaining the album either on CD or via download.
I am very impressed with Song Of Songs. Bakal and Rizzo have done a remarkable job of bringing this music to a Western audience. This is an adventure in listening, and as I allowed myself to be transported to another time and place, I am mindful of the beauty of the music and the emotional depth of the underlying context. I don't know what turn Bakal's music will take next, but rest assured, it will be something you won't want to miss.
Keith Wolzinger
Klezmer Podcast
You can hear my interview with Inbar Bakal on
Klezmer Podcast 48
.
Song Of Songs
Inbar Bakal
2009
Electrofone Records

Band Members:
Inbar Bakal- Vocals
Jaime Muhoberac- Keyboards
Santam Singh Ramgotra- Tablas
Dimitry Machlis- Oud, Bouzouki, Saz
Carmen Rizzo- Programming, Drum, Keyboards
Track List:
1 The Battle of Jerusalem
2 Song of Ascendance
3 The Bride
4 Song of Songs
5 Hallelujah
6 Meditation
Links:
Inbar Bakal
MySpace
CD Baby